Home
Shelties
Activities
Memories
Puppies
The Cat
Herding
Shelties haven't been selected for herding ability for at least a century. Nonetheless, many of them retain herding instinct inherited from their distant ancestors, who were all around farm dogs on the Shetland Islands.
| | |
| --- | --- |
| I started herding in 1994 after watching the ASSA National Specialty Herding Trial in Lodi. I had had a chance to try Molly on sheep a couple of times before the National, and on the strength of that, I entered her in the AHBA Herding Test that same weekend. She passed and I was hooked. | Molly |
| | |
| --- | --- |
| Raven | Many of the beginning Shelties tend to race around the livestock, or to run the livestock. With training and experience, they learn to use just enough force to keep the sheep moving. |
| | |
| --- | --- |
| Most Shelties tend to work too close to the livestock in the beginning. With training they learn to back off and to move the sheep without scattering them. Dustin here worked so close to the sheep that several times I had to give him a stop command, just so I could extricate myself from the woolies. | Dustin |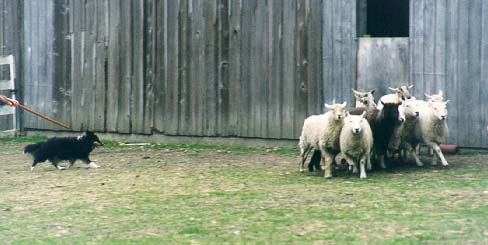 Raven
| | |
| --- | --- |
| Molly and I worked long and hard to develop this wide an outrun. | Molly |
Fetching is moving the sheep toward the handler.


Raven
| | |
| --- | --- |
| Molly | Driving the sheep (moving them in a direction other than toward the handler) is difficult for many Shelties. |
Sheep in large flocks behave quite differently than they do in small groups. We never passed up a chance to do large flock work.

Molly