£95 / €112 / $150
These bandoleers are designed and constructed for long-term active use, year-after-year, on the field in re-enactment events in a variety of weather conditions. Hence, some modern-day materials are used that will hold up to such use. But what is seen and handled appears "period."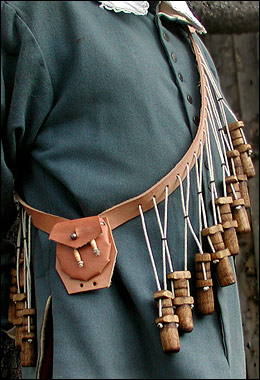 All leatherwork is hand cut and hand stitched. Leather is cowhide and natural (pale tan) in color. Bandoleer belt is 1¼ inch/32 mm wide, 54 inches/1500 mm in circumference (but can be made a different circumference upon request).
A dozen bottles are hung from every bandoleer. Each bottle is hardwood and turned individually on a lathe. No two are exactly alike – as were the originals. Each is bored to hold three drams/80 grains of black powder (unless otherwise requested). All dozen bottles are the same shade. Bottles can instead be painted upon request. Unpainted bottles are coated in a mixture of turpentine, spar varnish and linseed oil, rendering them rain resistant.
Bottles are hung from the bandoleer belt by 1/8 inch thick, grayish-white cotton string – very difficult to break on the field. To help prevent tangling, small brass rings encircle every pair of strings. No ferrous metals used anywhere on the bandoleers.
A bullet pouch, hand-cut and hand-stitched cowhide, is integral to every bandoleer, with a pewter button. Each bandoleer has holes for hanging a priming flask.
Wish to order? Go to the bottom of this page. But, first, look below to select what you would like for your bandoleer.
Currently, two choices of bullet-pouch styles are offered:

Patterned after DeGheyn, The Exercise of Armes
approximately 120 mm wide

Patterned after Scott, The British Army
approximately 100 mm wide
Three choices of bottles (boxes/charges) are offered:

Patterned after DeGheyn, The Exercise of Armes
approximately 100 mm tall

Patterned after Scott, The British Army
approximately 95 mm tall

Patterned after the bandoleer in the 30 Years War Museum, Wittstock, Germany
approximately 100 mm tall
Brass rings for strings holding bottles may be unstained (yellow) brass or chemically oxidized brass (near black which, unlike paint, will not chip off)
A simple leather shoulder pad may be added for an extra charge of £4 or 5€ (or $7)
Product is handmade in and shipped from the United States. Please allow for time. Shipping charges will be added:
Shipping charge to the United Kingdom: £15.5
Shipping charge to countries using the euro: €18.5
Shipping charge within the United States: $15
Expedited shipping can be done for an extra charge.
Want to order a bandoleer? Please send me an email by clicking the button below. In the email, please provide a mailing address as well as your email address. Tell me what you wish for your bandoleer, based on the selections offered above. Payment will be through PayPal after I reply to your order.


If that button does not work, simply address your email to:

Do your own leatherwork? If you like, you can order only the bottles: 12 bottles for £50 or €57 or $78; shipping charges extra.
---
Note: the seller/manufacturer of these bandoleers is not responsible for how they may be used. Should you put black powder in the bottles, always be aware that black powder is an explosive – please handle it with caution –records from the 16th & 17th centuries indicate that bottles loaded with powder may ignite when exposed to fire or sparks or static electricity.