The First Sheltie Champion Tracker
by Alicia M Keegan
This article first appeared in the Sheltie International Oct-Nov 2001
©2001 Sheltie International
On April 29, 2001, my eleven year old Sheltie, new CT Sagebrush Molly Brown, UD, HS, AX, OAJ, HTD II-s, HRD III-s, VCD2, was the only one of two entries to pass the Tracking Dog Excellent (TDX) test held by the Marin County Dog Training Club. This was the final win required for her to become the first Shetland Sheepdog in history to earn the Champion Tracker (CT) title. She had already passed the far more difficult Variable Surface Tracking (VST) test on December 3, 2000, and was the first Sheltie to earn that title as well.
Since the American Kennel Club licensed the first VST tests in 1995, only forty nine dogs to date have passed the test to earn VST titles. Molly was the forty second. Of those forty nine dogs, forty two have also passed the TDX test to become Champion Trackers. The single prerequisite for entering either the TDX or VST test is that the dog hold the basic Tracking Dog (TD) title. However, the VST test is considerably more difficult than the TDX, and Molly is one of the few dogs to earn the VST title first.
Thoughts from a VST test: "Judges with the patience of Job"
Tracking is a sport in which the dog follows the scent trail of a person who has walked through the area at least thirty minutes earlier for TD, and at least three hours earlier for TDX and VST. The tracks are plotted by the two judges the day before the test, in patterns of (mostly) straight lines connected by turns, the majority right angle turns. The tracklayer, whom the dog will follow, walks the plotted track on the morning of the test. There are three to five turns on a TD track, five to seven on a TDX track, and four to eight on a VST track. The TD and TDX tests are laid out in open spaces—fields, ranch lands and woodlands. In the TDX test the dog must negotiate two scenting obstacles–such as fences, roads, creeks and creek beds, brush and log piles, steep hills, gullies and marked changes in cover. In addition, the TDX track is deliberately crossed in two places by the fresher tracks of two people, so the dog must be able to discriminate between the scents left by different people.
The VST test is held in urban areas, such as campuses, business parks and government complexes. The VST track goes around buildings, across mowed lawns, down sidewalks, through breeze ways, up stairs and across balconies, as well as across asphalt parking lots. Part of the challenge is that the VST track will be randomly crossed by automobiles and people before the dog runs it. At least a third to a half of the VST track must be on surfaces with no vegetation, and at least one of the turns must be on a non-vegetated surface. In a TD track, the dog must find a glove or wallet at the end of the track. In TDX and VST tracks, there are four articles.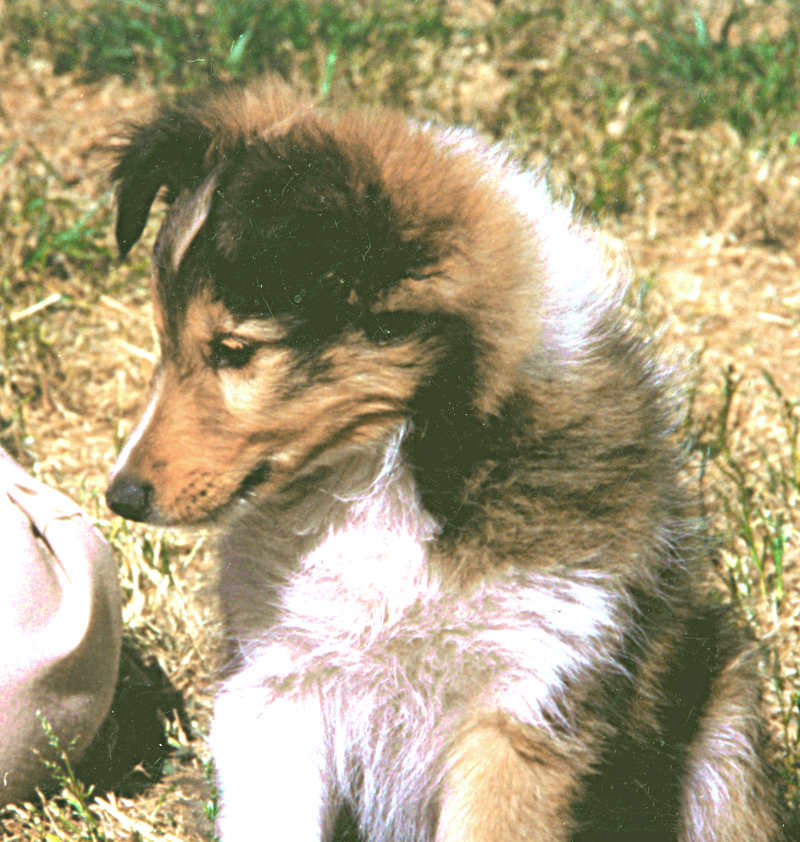 Molly at age 9 weeks.

The first is left at the beginning of the track to give the dog the scent. The second and third articles are dropped in different spots along the track. The last article is left at the end of the track. The dog must visibly indicate each of the last three articles, which must be picked up by either the dog or the handler.
Thoughts from a VST test: "She started well, maybe she has a chance"
I didn't start out to have the first Sheltie Champion Tracker in history. When Molly was whelped on March 5, 1990, the VST test didn't even exist. She was the daughter of my Sagebrush Little Britches, UD, TDX, who was by Ch. Dorlane's Touch of Class, CD out of Sarabande Meghan O'Sagebrush, UD. I hadn't intended to breed Britches again until her daughter, the only pup in her first litter, died when she was only two years old. I badly wanted a Britches puppy. So Britches was bred to Ch. Sea Haven to Wynset With Love, CD, and from that breeding came two puppies. The male was clearly destined for oversize, the female was Molly.
CT Sagebrush Molly Brown, UD HS AX OAJ HTD IIs HRD IIIs VCD2, pictured at nine years of age. June, 1999 (Photo by Barry Siler)
I knew Molly was special by the time she was nine weeks old. I couldn't even walk across the yard without her latching onto my shoelaces for a tug-o-war. As she got older and we went to the beach, she chased the leading edge of the waves, quite convinced that she could catch the whole Pacific Ocean if she tried hard enough. She was a high energy, ready-to-try-anything dog from the very beginning. But she was also slow to mature, and I didn't start formal obedience training with her until she was well over a year old.
Thoughts from a VST test: "Does she get extra credit if she does it more than once?"
When I started Molly's obedience training, under Judie Howard, I found that she was always willing to give her best. More than any other dog I've had, she was desperately eager to please me. The only problem I had in novice training was that once she got the idea of heeling, she glued herself to my leg like some kind of leech. Molly needed a very soft touch in training. But when she was ready to show, she excelled. Her faults were those of enthusiasm. She missed a Dog World award in Novice obedience only by virtue of anticipating a finish at her third trial. She was shown four times in Open obedience, placing each time. She qualified the first time she entered the Utility ring, winning a runoff for first place. She finished her title a handful of shows later, with a 197 ½ and another first place. "This dog has OTCh potential" a judge told me. "Yes, but I don't!" was my reply. We had shown that we could do obedience and it was time to move on to something else.
A family photo: from left to right, Sagebrush Wildcat Annie, CDX, pts, at age thirteen, Annie's littermate, Sagebrush Little Britches, UD, TDX, and Britches' daughter, Molly at age seven. April, 1997 (Photo by Barry Siler)
By that time we had discovered sheep. I had tried Britches and Meghan on sheep several years earlier, but they had shown no particular interest and I never took them back. When the ASSA National Specialty in Sacramento in 1994 had scheduled a herding trial, I decided that Molly and I should try it. I didn't know anyone who trained sheepdogs at the time, but I had an acquaintance who owned some sheep and was willing to let Molly have a go at them. These sheep had never seen a dog in their lives, and I had no idea what I was doing, but the second time Molly went in the yard with the sheep, she started to work them. I was ecstatic. On the strength of that, I entered Molly in the AHBA Herding Capability Test at the National Specialty, and she passed.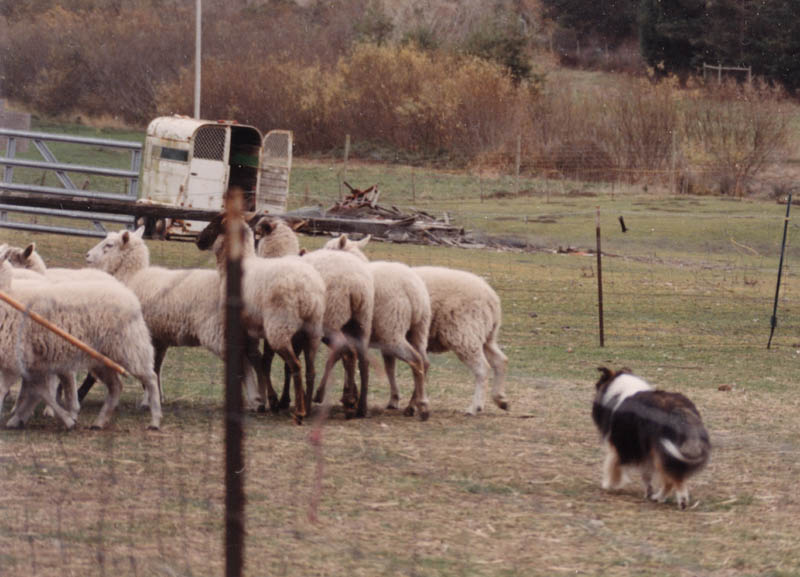 Molly moving the sheep toward a gate on her way to her HRD III-s, January 2000
I was hooked. We started training with Shannon and Gayle Oxford, and in November of 1994 Molly earned her Pre-Trial Tested (PT) title. Shortly thereafter, wanting to train closer to home, I started working Molly with Linda Rorem. Like many Shelties, Molly tended to work close to the sheep and Linda helped me develop an outrun on her. In April of 1995, I entered her in her first AHBA trial, in the Herding Trial Dog I class. She worked enthusiastically, and came away with first place and High in Trial. She earned her second leg to finish her HTD I-s three months later, with another first place and Reserve High in Trial. After a couple of false starts, she was ready for the AKC started class that winter. In October, she earned her first two Herding Started (HS) legs, winning High in Trial at the second trial. Two months later, at the Shetland Sheepdog Club of Southern California trials, she finished her title, winning High Scoring Sheltie for the weekend and another Reserve High in Trial. We continued working sheep (Molly never acknowledged that ducks were livestock), and in 1996 she earned her Herding Ranch Dog II title, and in 1997, her Herding Trial Dog II title. I also showed her in several large flock, French style trials, where she had the opportunity to work flocks of forty to eighty sheep. A large flock handles very differently from the usual three to seven trial sheep, and we both enjoyed the experience. But both she and I were becoming frustrated and discouraged by my inability to teach her how to drive sheep. So I decided to take a break from sheep and try some different activities.
Molly working in a large flock trial, September 1995
Molly running in agility, June 1999 (Photo by Bill Newcomb)
I started Molly in agility in 1997. She was now seven years old, but she REALLY wanted to run the courses. I built most of the obstacles over a year's time, and as each was finished, I would start working the dogs on them. In the spring of 1998, Molly and I started some formal classes, and she loved them. I entered her in the summer trials held by the Shetland Sheepdog Club of Northern California. She qualified with clean runs three times out of four, to earn two Novice Standard and one Novice Jumpers leg. She finished her Novice Standard title at her next trial, also with a clean run, and her Novice Jumpers title shortly thereafter. I then entered her in the more advanced classes, and by the end of the year, she had her Open Jumpers (OAJ) and Agility Excellent (AX) titles. I showed her a handful of times in 1999, and she earned three of the needed ten legs toward her Master Agility Excellent title. But she was having trouble making course time, and when she developed a recurrent front leg lameness brought on by jumping, I sadly decided to retire her from agility. She was nine years old. Our brief agility career had been more pure fun than any other activity we had shared.
Thoughts from a VST test: "You mean the track was almost four hours old when she started?"
"Yes, and it was almost six hours old when she finished!"
But we still had tracking to fall back on. I had begun tracking with Molly over the winter of 1996-1997, field tracking being a winter sport in our area. We started Molly's tracking using frequent food drops to reward her following the scent. She was as exuberant about tracking as about everything else, and caught on very quickly. The following year, we didn't track at all due to my work commitments. When we returned to the fields in the autumn of 1998, she seemed as enthusiastic as I was about earning her TD. But in order to enter a tracking test, the dog must have a letter from an AKC tracking judge, certifying that they have judged the dog's tracking performance, and that the dog completed a track equivalent to a TD track. It took Molly three tries to get certified, the first two times running into problems at turns in dry, sparsely vegetated areas. But the third time she made it. Armed with our certification letters, I entered her in tracking tests. At the first test, the cattle had been grazing that morning on the first and second legs of the track. Molly started uncertainly, and lost the track at the first turn. At her second test, she raced down the track from the start, and pulled me through most of the turns before I even realized she had come to them. She paused only once to bark at the judges when she noticed them behind her, and then she was off again. She found her glove easily to earn her Tracking Dog title in April, 1999.
Molly and Alicia tracking down a hillside, April 2000
I started training for her TDX right away, but we had less than a month before the tracking areas became too full of foxtail grasses and stickers for the dogs to be able to work. In July we were able to take Barbara Adcock's six session introduction to VST. Molly had no trouble grasping the idea of tracking on bare surfaces, so I started training her in earnest for the VST. At that point I unfortunately had to stop training her with Barbara. Barbara judges a lot of tracking tests, and I needed to wait out the one year period so I could enter Molly when she was judging. But we continued on our own in VST work, and picked up TDX work again in the autumn when the open lands became usable. Molly made steady, if uneven, progress in both areas. She loved to track, but became very discouraged when she couldn't find the track. I had to plan tracks carefully to build up her confidence and her willingness to keep searching when she lost the scent. We took a few weeks break in the winter of 1999 to go back to the sheep pastures and earn her HRD III-s, but then it was back to tracking. In the spring of 2000, I began to enter her in tests. There are many more dogs entering TDX and VST tests than there are spaces to run. Entries are taken up to the closing time, then a drawing is held to determine which dogs get to run the tracks. Raven (Apple Acres Sagebrush Raven, TDX, PT, OA, HRD II-s) made the draw on her first entry and earned her TDX on her first try. Molly's name was never drawn.
Molly searches for a turn at a muddy creek bed, April 2000
I was fortunate through that spring and summer to be able to get together with Anne Hershey, who has a Champion Tracker Australian Shepherd, and who was tracking her younger dogs. I laid tracks for her dogs, and Anne laid tracks for Molly, and gave us lots of encouragement. Molly was tracking extremely well through July, then her work dropped off abruptly in the summer heat. So I backed off, and laid shorter, fresher tracks earlier in the day, with more food drops (ant-resistant food drops!).
Molly started to track better in late September, so when she made the draw for the October TDX test in Eugene, Oregon, I decided that we would make the nine hour drive to run. Conditions at the test were lovely. The ground was damp and the air was cool. Molly started well on her track, then had trouble with the first corner, and after she made the turn, she kept getting hung up on the first set of cross-tracks. She never committed to the wrong scent, she just couldn't locate the right scent. After she failed, we put her back on the track and as soon as she got into higher shrubby vegetation, she took off leaping and bounding, to finish the track with no further problems. So I knew that she could pass sooner or later.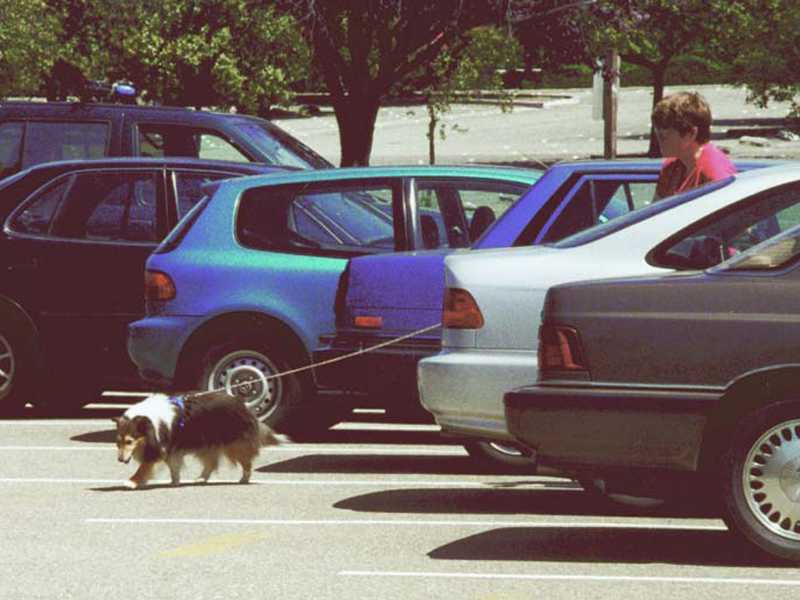 Cars and parking lots are a common component of a Variable Surface Track. Molly and Alicia, May 2001
Her VST work was also progressing well. One morning she worked out a particularly difficult problem in a parking lot. There were no cars in the lot when Anne laid the track. When we came back to run the track, every parking spot was taken. Molly negotiated a turn in the middle of the cars and worked down each row of cars until she ran out of scent. Then she doglegged over to the next row to pick up the scent, repeating this three times until she found her article.
Thoughts from a VST test: "She is really the unsinkable Molly Brown!"
Then disaster struck. Molly was acting normal, but had started low grade vomiting. We went to the Palo Alto Foothills Tracking Association VST test as the second alternate, and she threw up on the way home. Molly never gets carsick. Tests showed that she had pancreatitis. Medical treatment failed to solve her problem and a week later she became icteric (jaundiced). Her scarred and swollen pancreas had blocked her bile duct. Incredibly her behavior was still pretty close to normal. Surgery rerouted her bile flow, and left her with a temporary feeding tube directly into her small intestine, to bypass her pancreas and give it a rest. A few days after the surgery, I was notified that she had made the draw for the VST test in Oregon the second week in December. Good news, bad timing. But Molly recovered very rapidly, and never looked back after the jejunal tube was removed ten days post surgery. We celebrated by running a short track.
Thoughts from a VST test: "We've got to pass, because I am never, ever going to do this again"
Scent often collects along curbs, gutters and the edges of shrubs and ground covers. Molly, May 2001
The week before the Oregon VST test, and three and a half weeks post surgery, the Sacramento Dog Training Club was holding its VST test. Molly was the second alternate. I decided to go up to the test, which was a mere two hour drive from home. I had been told that one of the entries would probably not show, but I didn't find out that Molly would run until it was time to draw for track running order, and another of the entries was absent. We drew the third track, which turned out to be three hours and fifty minutes old when we arrived at the start flag.
Molly started well, made the first turn easily, located her first article, the plastic lid of a CD case, and made her non-vegetated turn with no problems. Then she lost the scent coming off the asphalt and onto a grass playing field that was liberally dotted with goose manure. This was the first of three places on the track where she completely lost the scent. It took her twenty to twenty five minutes to work out each problem. The track went left across the mowed field, then turned left (her second problem area) to curve down a dirt road, up a gravel drive, across an asphalt parking area, and then through an alley bounded on one side by a chain link fence and on the other by a building. Coming out from the alley, the track made a left onto the grass paralleling a sidewalk. Molly worked this leg mostly on the sidewalk, but was circling a lot, and had no trouble finding her next article, a flattened tin can in the grass. Her final turn was a hard right into a courtyard surrounded by several low buildings, where two boys were jumping skateboards right on the sidewalk. It sounded like jack hammers. Molly worked around the boys, which put her off the track. Then one of the judges asked the boys to leave: skateboards are not permitted on the campus. It took a very long time for Molly to re-locate the track–she searched every possible alternative several times before picking up the scent as the track went out of the courtyard through a breezeway. Once past the breezeway, she cast in several directions before finding the track straight ahead on the sidewalk in front of her. Halfway down the sidewalk she found a square of leather, which meant the end of the track and the first VST Sheltie in history. All I could do was hug her and say, "Oh, Molly! Oh, Molly!" It had taken her two hours of working to complete the track. And we didn't have to drive to Oregon.
In Variable Surface Tracking the dog must learn to follow the scent trail up and down stairs. Molly and Alicia, May 2001
Thoughts from a VST test: "After this, the TDX will be a cinch!"
In fact, it took us three more tries to pass her TDX test. Molly's poor luck in the draw held through the spring. There are no such things as "easy" TDX tests, but we never got into any of the tests that historically have higher pass rates. In March, we ran in the heavily forested Napa Valley test. She couldn't find the ground scent in the leaf litter, so she air scented her way through the first two legs, managing to get past the first set of cross tracks before going off in the wrong direction. A week later, she ran in the Monterey Bay test. Although the grounds looked decent to me, she went down into a large basin from the start–and the track didn't go that way. None of the dogs passed that day, at either the TD or TDX level.
The final test of the season was the Marin County test at the end of April. Molly made the draw. Although some of the TD dogs usually pass this test, no dog had ever earned a TDX at that location. Fortunately dogs are allowed to practice up there, so we went up to track three times before the test. Anne Hershey, whose Australian Shepherd had earned his TDX two months earlier, made the drive up to lay track for us. The Marin Water District site is hilly, with lots of open wood, lots of deer and wild turkey, and lots of ticks, corkscrew burrs and poison oak (disguised as ground cover). The first time I tracked there with Molly, I came home and cut off all the long hock hair that I had grown out for the National Specialty. Every time we tracked in Marin, it took two hours to comb her out, bathe her and myself, and wash all our clothes and tracking equipment so I wouldn't get poison oak. Not fun! But the practice made us as ready as possible for the test.
Terraced lawns can present scenting challenges. Molly and Alicia, May 2001
On test day, we ran the second track, starting on an open hillside with several visible deer trails. Molly cast around for a bit before starting down the first leg. She worked down the hill, then up a little to her first turn, and turned left after a bit of casting, up a steep hill and into the trees. We scared up our first set of deer there, and she was distracted for a bit before settling back to work. Fortunately, she got her reward quickly, by finding the first article–a glasses case. She did a lot of casting around in the poison oak before continuing on her track, then came out of the trees onto a sparsely vegetated saddle. She indicated loss of track, and started searching. Apparently the scent had drifted down the hill to the right, because she worked down that way quite some distance before running out of scent and following the edge of the scent back up. Then she worked her way forward and across the crest of the saddle, finally picking up the track going down the hill in the grass to her left. That leg of the track was visible once she got on it, and she kept pretty close to the actual track, veering off once to check out what I later was told was a cross track.
She made the third turn without problem, and continued straight until she came to the first of what turned out to be three sets of ferns. The ferns were over her head, and although she had no trouble following the scent, she kept looking for ways to detour around them. She continued on through grass and more ferns, until she indicated loss of track just before a dead tree. It took her a little while to work out the turn, as the scent seemed to have drifted down the slope into a small bowl. But after a couple of brief rests in the shade of two oak trees, she dropped her nose into the next leg and continued on–through yet another set of ferns.
Then she came to a halt in a low area with a tall thick row of bushes straight ahead of us. There was a gap in the bushes straight ahead (although if the judges had chosen to lay the track through THAT poison oak, I was ready to kill them) and I could hear the deer bounding away beyond the bushes. To the right was a visible deer trail meandering off into the woods. To the left was tall grass that looked as if nothing had been through it in months. Molly showed no interest in the left, and searched straight ahead a few times, but found nothing there. Several times she went up the deer trail to the right as far as the end of her line before breaking off in the shade of an oak. It looked as if what was stopping her was the shade, and not the lack of track.
Molly, after her successful VST track, pictured with (L to R) Judge Carole Blanz, Alicia Keegan, Judge Barbara Adcock, AKC Rep Betty Winthers. December 3, 2000

So I gave her some water and wet her down, and encouraged her to go on. Up the deer trail she went, flushing more deer as she went. She went left to follow the deer trail up the hill a way, then continued up to the top as the deer trail veered off to the right. She came out of the woods into a sparsely vegetated ridge-top clearing and lost the track. She almost immediately started uphill to the left, but then broke off and started casting. After searching for a bit–mostly forward and downhill, she finally went back and continued uphill to the left. Hoping this wasn't the last of the cross tracks, I followed her. She had just reached the shade of yet another oak tree when she caught the scent of the next article off to her right. She pulled hard around a large shrub, which caught her tracking line and held her scrambling in place trying to get to that article–a folded scarf.

After untangling her line and picking up the scarf, I encouraged her to continue. She was reluctant to leave the shade of the tree, but she started working again and off we went. She indicated the final leg of the track and started pulling hard into it some ten yards or so before she came to the turn. The last leg was visible to me in the grass, so I know that Molly worked a good part of the leg about ten or fifteen yards uphill from the track. I was afraid she would go off up the hill onto an equally visible deer trail, when she suddenly stopped, turned around and looked at me, and headed back to the track. Then she paralleled the track a few yards downhill for a bit, before dropping her nose into the track and pulling hard for the remaining distance to the final glove. It had taken fifty five minutes for her to complete the track. Molly had just become the first Sheltie to earn the Champion Tracker title.

Molly was thrilled by all the attention she got, although she wasn't too happy about the half hour I spent combing burrs out of her coat. The members of the Marin County Dog Training Club were elated that someone had finally passed one of their TDX tests. But I was not only happy and relieved, but also a bit sad. Molly had finished all the competition goals I had set for her. I haven't dared to mention retirement to her yet. She wouldn't like to hear that at all. Of course, she hasn't been lame in a year and a half and she could probably handle the 12 inch jumps in the USDAA performance classes in agility. She still attacks the lawn sprinkler heads whenever I turn on the water. And maybe she will yet catch the Pacific Ocean.