Slag om Grolle
22, 23, 24 October, 2010
Groenlo, The Netherlands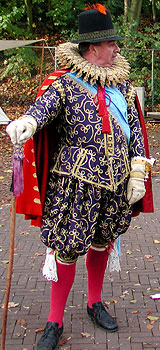 The 2010 Slag om Grolle was my second time at this event and the third for the event itself. The last was two years ago; as I mentioned in my description of that: "Slag om Grolle" is Dutch for "Battle of Grolle." The first re-enactment of this was held in 2005… It commemorates the siege in 1627 with the Dutch and their mercenaries resisting the Spanish-led Army of Flanders in the latter part of the 80 Years War."
This time, instead of 600 re-enactors, 850 were invited, and from more countries: Spain, France, Italy, Netherlands, Luxembourg, Germany, Czech Republic, Poland, Hungary (and one from the United States). As in 2008, the emphasis was living history in addition to three days of battle. Living history campsites were throughout the town's public parks, with pretty settings among trees and slow waterways, which were sited along the now well-eroded defenses of 1627. Participants/campers were approximately divided by language groups, with English speakers in a different spot from last time, in the flat in front of the outdoor stage and close to the Dutch.
Weeks beforehand, I'd been in contact with the Sealed Knot Royalist Regiment, Rawdon's, about being with them for this event as I was for 2008. I was enthusiastically welcomed; they even generously provided for me a soldier's tent and filling meals. (I made a small repayment by presenting the Colonel with a tube of moustache wax and to the Regiment a gen-oo-ine State of California flag, to be flown and thereby bemuse others at the plastic camps at next year's Sealed Knot events.) In addition to Rawdon's, other regiments were there from Hopton's Tercio, Godolphin's and Slanning's, plus I saw the white coats of Newcastle's. But instead of being referred to as "Hopton's," we had the collective name of "Cecil's." And there were plenty of red coats of Manchester's, a stalwart Parliamentarian regiment (which, FYI, fought hard against Newcastle's in the Battle of Marston Moor in 1644).

To fit in better, I wore my new yellow soldier's coat of Rawdon's; I joked that wearing it made me a better spy for the Parliamentarians. My coat did not have the turnbacks sewn down, so I made use of them as the design intended. Unfolding them over my hands kept even my fingers warm in the chilly mornings. Indeed, every morning was chilly, with the weather a changling, fitful one hour, next hour gray, weighty and somber, then lightsome and blue.

An addition for the 2010 event was a five-kilometer march, in which I marched along with many others. Bused to a location outside Groenlo, we then walked in our groups along bicycle paths, farm roads and shoulders of paved roads back to Groenlo. Rawdon's/Cecils, near the end, simply followed the group in front. Soon after starting, all went into and assembled in an open area with embankments on all four sides. There we were joined by three laden wagons to simulate a baggage train. One of Rawdon's had to heed the urgings of his full bladder and slipped over an embankment into the woods. He came back, wide-eyed and breathlessly warning us there were Zulu out there.

Like last time, there was more to see and do than there was time. I visited other camps, viewed demonstrations of period crafts on the streets (including making klompen/wooden shoes with period tools), bought a few souvenirs (like a pair of klompen), and hung out with Rawdon's.

The Bokbier was there and waiting for us. Such a sumptuous and satisfying way to exercise the kidneys. (In addition, a local store of a chain discount market was selling a delicious Portuguese port for a mere 3.99 euros per liter.)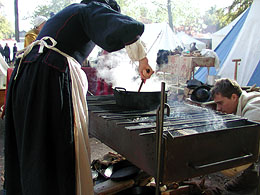 As in 2008, there were three days of battle in the afternoons held a short walk outside Groenlo and watched by a great crowd of spectators on three sides of the field. Before each battle, regiments assembled in the town square and down one of the main streets. This year, the wait time for assembly was shorter, so we soon sallied forth in ranks and files, flags swirling, weapons shouldered and drums beating cadence. And I must say that Cecil's drummers were the best: consistent, skilled, LOUD and stirring.
Unhappy with so many participants taking photographs of the battle back in 2008, this time organizers specifically forbade bringing out cameras on the field. I was okay by this; my opinion is that one can either fight or take pictures, but not both, and I wanted to fight.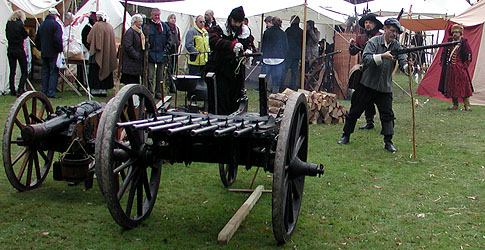 The battle simulated a siege. At one end, a low bastion was of built-up earth with storm poles set into the sides and on this artillery was mounted. Trenches zigzagged across more than half of the battlefield, with the removed earth heaped on the trench side facing the enemy (so as a trench went from zig to zag, the removed dirt was placed on one side, then the other) with trenching was done with an excavator beforehand. At one end, the Dutch attackers' end, a low bastion was of built-up earth with storm poles set into the sides and on this artillery was mounted. The Army of Flanders was behind earthworks at the other end.
As during the battle in 2008, I could focus only on the situation and people immediately around me, follow orders, and wait-charge-stand-withdraw-wait. What struck me this time was how well orchestrated the overall battle was. Every unit was given the opportunity to fight, sometimes against one enemy unit, then another, sometimes falling back, other times going forward, even attacking. Here and there were event organizers in kit providing cues to participants while discretely using little field radios, much like what cops have.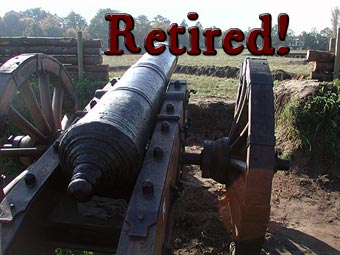 The 24-pounder cannon that was used spectacularly in 2008 was brought out again to thunder. This cannon is an historic artifact; it's over 350 years old. On the second day of the 2010 event, however, it showed its age. With one of the first shots, artillerists saw something come out the barrel in addition to flame and smoke. They retrieved the object: a flake of corroded metal about 18 cm long. Peering down the barrel, they saw inside the spot where it came from. Immediately the declaration was made: This cannon is forthwith RETIRED!
The first day, Cecil's was initially held in reserve beside the artillery. The battle grew and we began to wonder if we were to go in – then an officer of a French unit told our Colonel to go with his company forward into battle. We fought the second day with that French unit at our side. In a trench, the enemy pike came at us to make this like a Sealed Knot push of pike. It was a joy for me to mash right in. A French officer was at my immediate left and shouting as loud as he could commands in French. Exhilarating to be back into a pike push AND have a French officer bellow orders in French by my ear.
This time there were eight horse, all very well trained, with their riders equipped as cuirassiers, from the Czech Republic. On the first day and the third, riders guided their mounts into the trenches much to the consternation of infantry already in there. Of course, that infantry reacted, confronting horse with pikes and clubbed muskets. The riders had their horses leap right out of the trenches and rush to harass other infantry.

The third day of battle concluded by following the history of 1627. Then, there was an explosion in the munitions inside the fort. Suddenly deprived of most of their firepower, the besieged forces of the Army of Flanders surrendered Grolle. The explosion – off stage and sound only – broke into the third day's battle. High officers of the Army of Flanders then came out to parley with Dutch leaders and a surrender came about. That day the regiment had given me the privilege of being an ensign to carry Cecils' orange banner. When the surrender came about, I stood atop a trench embankment and waved and waved the orange.
Much more - like, many pictures - may be found at the event's official Web site.